Hakuba 47 Ski Patrol
---
About Hakuba 47 Ski Patrol
---
"Hakuba 47 Ski Patrol" starts a day with weather and snow observations first thing in the morning, and then conducts course safety inspections prior to as well as after business hours, patrols during the day to prevent accidents and injuries of our guests, and rescues the sick and injured if an accident occurs.
---
---
---
Our ski patrol team consists of 12 members - Leader, MITSUYASU Kimihiro and 11 other patrollers.

2 SAJ official ski patrollers
1 SAN official ski patrollers
3 Japan Red Cross Society First Aid Providers
1 Japan Red Cross Society First Aid Instructor
4 Wilderness First Aid Certified Patrollers
9 Experts dealing with avalanche control explosions (ACE)
2 Certified personnel
1 Licensed personnel for avalanche control blasting
1 Experienced personnel for avalanche control
---
There are 3 patrol offices at Hakuba 47; located on the first floor of the gondola summit station, at Line-C quad lift station, and near the restaurant Alice.
We are normally on duty in each and every course.
We are in uniforms with a MAMMUT logo on them.
If there is anything you need help with, please do not hesitate to reach out to us.
---
Hakuba 47 Regulations
---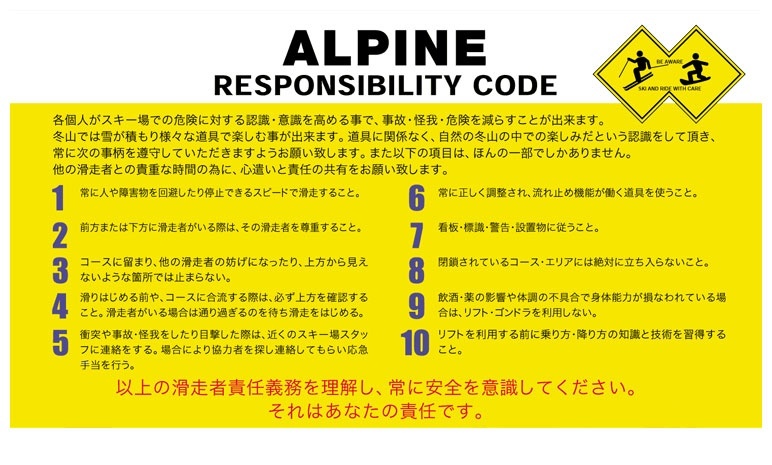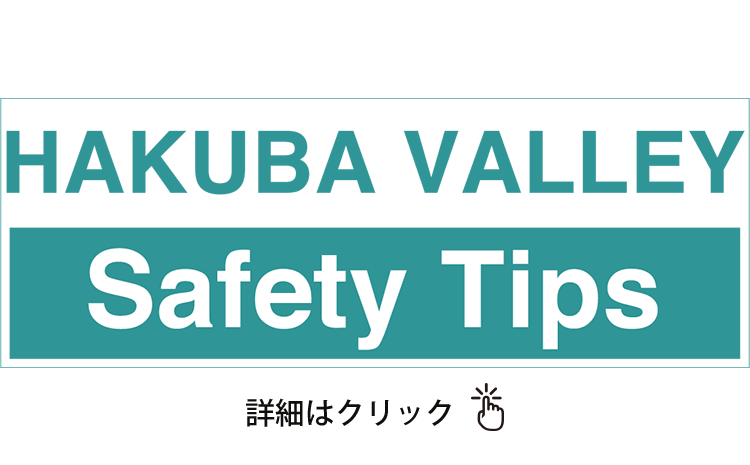 ---
To ensure the safety and enjoy Hakuba 47
---
Ski resorts are located in mountainous areas. In order to enjoy skiing, snowboarding, snowshoeing, and other snow sports in a variety of ways, please always be aware that these are winter mountain sports which require you to use your abilities to the best of it to ensure the safety.
1. Ski/snowboard in groups of two or more if possible to greatly reduce the time required and improve efficiency of search and rescue.
2. Follow the course map, signs, markings, warnings, and indications. Always know where you are and never enter prohibited areas at your own discretion.
Ski/snowboard only along the courses indicated on the course map, regardless of whether there are ropes, nets, or other markings.
3. You are responsible for all search and rescue expenses if you ignored the regulations of the ski resort and entered the prohibited areas. Please refer to the table below for details of search and rescue expenses.
4. Do not monopolize or occupy any part of the ski slopes or courses without permission. Unauthorized creation of jumps, kickers, and mogul lines as well as installation of poles are strictly prohibited.
5. Submit a mountain climbing registration form when you go backcountry skiing using our gondola and chairlifts. Forms are available via Nagano E-applications website or FAX 03-6862-5035.
6. Pay attention to any objects on the slopes and courses and keep sufficient distances from chairlifts, man-made structures, snow vehicles, standing trees, etc.
7. If you see someone who needs assistance on the slopes or in the course, please contact the nearby ski resort staff. In some cases, please provide first aid.
8. Please refrain from using the chairlifts and gondola if your physical abilities are affected by alcohol consumption or poor health.
9. Please do not pollute or ruin the nature of the mountains.
10. Please respect other skiers/snowboarders and do not cause danger, harm, or anxiety. Your consideration will help reduce injuries and accidents.
Safety Management
To prevent accidents from happening
Nets, mats, ropes, and other markings are set up in areas that are considered dangerous in order to protect the safety of our guests. We also provide guidance with signs and billboards.
---

---
In case of emergency
---
If an accident or injury occurs
---
If an accident or injury occurs around you, please report it to the nearest ski resort staff.

Providing the below 5 points as accurate as possible when calling our patrol will help us find the accident site and rescue the injured person more quickly. Patrollers are always on duty, but the best way to notice accidents and injuries is through reports from our guests. We thank you for your cooperation.

・Location where the accident/injury has occurred and where the injured person is located.
(e.g., in the middle of Route 1, on the right side of Route 1 when viewed from above, etc.)
・Gender and age of the injured person
・Skiing or Snowboarding
・Color(s) of clothes which the injured person wears
・Descriptions of the injury (body parts, bleeding or not, etc.)
---
Which number to call in case of emergency
・When you are at Hakuba 47 … 0261-75-3533
・When you are at Hakuba Goryu Alps-Daira Zone or Toomi Zone … 0261-75-2101
・When you are at Hakuba Goryu Iimori Zone … 0261-75-2636
To prevent double accidents
---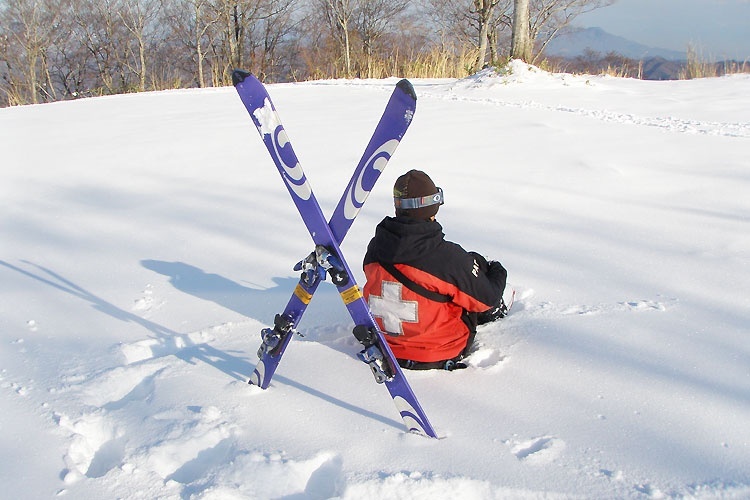 Indications as shown in the photo will make it easier for other guests to recognize the accident site and help prevent double accidents. It would also be helpful if your companion could show us the way to the accident site.
---
Test Skiing (Artificially Releasing Avalanches)
---
We release avalanches of the prohibited areas artificially before business hours. There is a high risk of avalanches in the prohibited areas around Hakuba 47. The avalanches may cause damages to the courses and may involve our guests if occurring during the day.

Therefore, we conduct test-skiing early morning before business hours when there is 15cm of fresh snow and the risk of avalanche occurrence is deemed to be high. Ski cuts, avalanche control explosives (ACE), and snow vehicles are used to artificially release avalanches.

If there is a large amount of snowfall during business hours, or if there is an increased chance of avalanches, work may be done during the day. The work of artificially releasing avalanches is conducted carefully and securely because of the risk of patrollers being involved in the avalanche. All the patrol members are working hard to ensure the safety of our guests and that we can start operating as soon as possible.
---
Prohibited Areas
---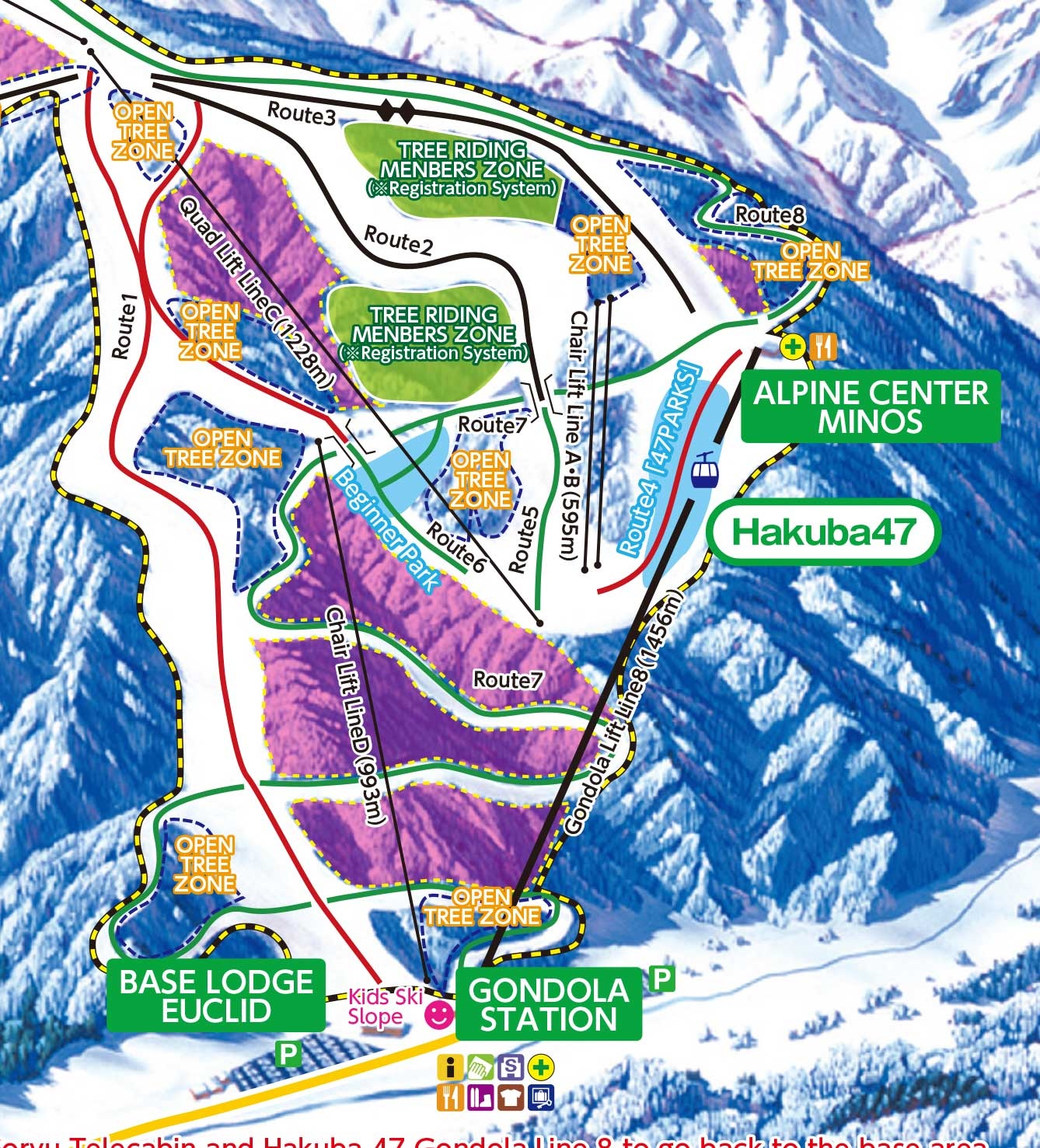 The areas highlighted in purple on the bird's-eye map are prohibited to enter. Also, yellow and black colored lines show the ski area boundary. Beyond these markings is the prohibited areas as well. Please do not go beyond the ropes, nets, and signs.
---
Skiing/Snowboarding within the prohibited areas is forbidden.
---
Avalanches may flow into the slopes in the prohibited areas and lead to serious accidents. Skiing/snowboarding in these areas is prohibited for whatever the reason is. Under no circumstances, those who enter the "Prohibited Areas" will have their lift tickets confiscated and will be asked to leave the ski resort due to the dangerous behavior. Note: Ski tracks seen in the prohibited areas are the ones we leave when we conduct safety checks.
Hakuba 47 Ski Patrol
---
The prohibited areas around Hakuba 47 and Hakuba Goryu are extremely dangerous. Avalanches under the lift and gondola lines can cause damage to the lift and gondola pillars, which may result in serious injury to passengers. Easy course-to-course shortcuts can cause damage from avalanches flowing into the beginner's course.
Please keep in mind that if you ski/snowboard or act without following the rules for your own enjoyment, you may cause troubles for many other people.

Also, in the event of an accident in a prohibited area, rescue work would be extremely difficult and take a long time due to the complicated terrain, so skiing/snowboarding is prohibited to protect the lives of both victims and rescuers.
---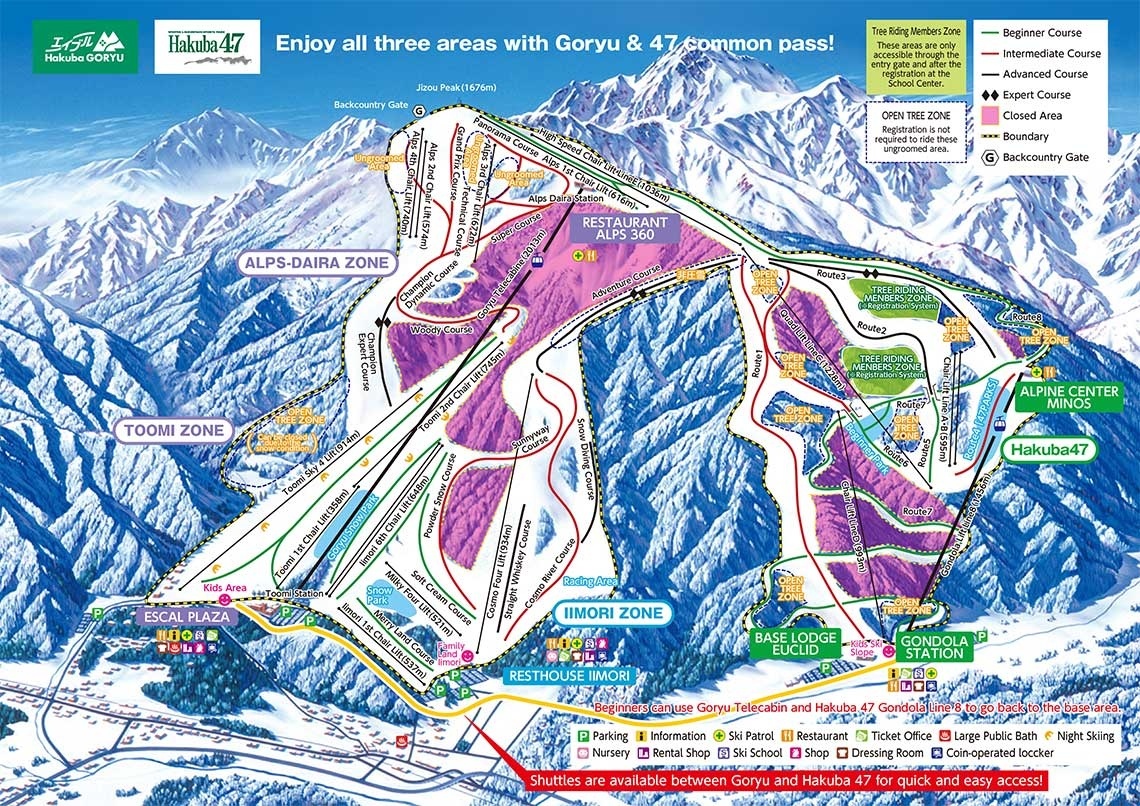 As for Tree Riding Zone and other open tree areas in Hakuba 47 Winter Sports Park, please refer to the area map Tree Riding Zone.
---
Search and Rescue Expenses
---
"Prohibited Areas" - Do not enter.

In the case that search and rescue are required, it will be in the hands of Hakuba 47 ski patrol. You will be liable for all related search and rescue expenses for any reasons and regardless of the search result.
| Search and Rescue Expenses | (per hour) |
| --- | --- |
| Patrol(per person) | 20,000 yen |
| Standby duty personnel(per person) | 5,000 yen |
| Snowmobile(per snowmobile) | 10,000 yen |
| supporter(per person) | 10,000 yen |
| Snow groomer(per car) | 50,000 yen |
| Others (meal and drinks) | actual expense |
Back-country skiing
---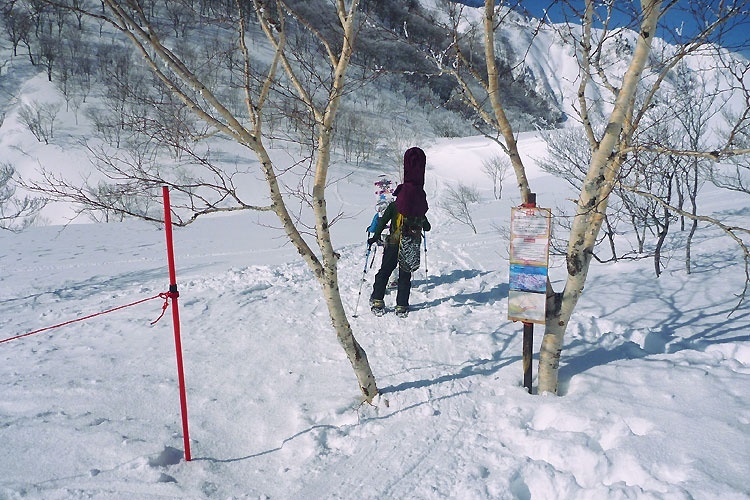 There is no direct trailhead for backcountry skiing from Hakuba 47. The trailhead is located at the top of the mountain beyond Jizo's Head that can be reached via Hakuba 47 Line-E chairlift or Hakuba Goryu Alps 4th lift.

It is prohibited to enter the ski resort outside of business hours or period, and it is also prohibited to hike up above suspended chairlifts. Do not ignore ropes, signs, and other markings and exit the controlled areas (slopes) . Even if you go through the designated gate, do not ski on the routes that can be seen from other slopes because other people who do not have a certain level of equipment, knowledge, experience, or technique might follow the trail with your ski if they see your ski tracks (Spur). Also, there is always a risk of avalanches or distress, so ensure you have all the appropriate safety equipment and knowledge, submit a mountain climbing registration form (can be obtained via Nagano E-applications website or FAX 03-6862-5035), and act on your own responsibility when you go backcountry skiing. As snow vehicles will be working on the course maintenance, it is extremely dangerous to enter the slopes after business hours. If you need to use the slopes to go downhill after business hours, please contact the ski resort office (0261-75-3533) and follow the instructions.

Please read Hakuba Safety Tips carefully along with regulations of each ski resort. Hakuba 47 Regulations
Tree Riding Zone
---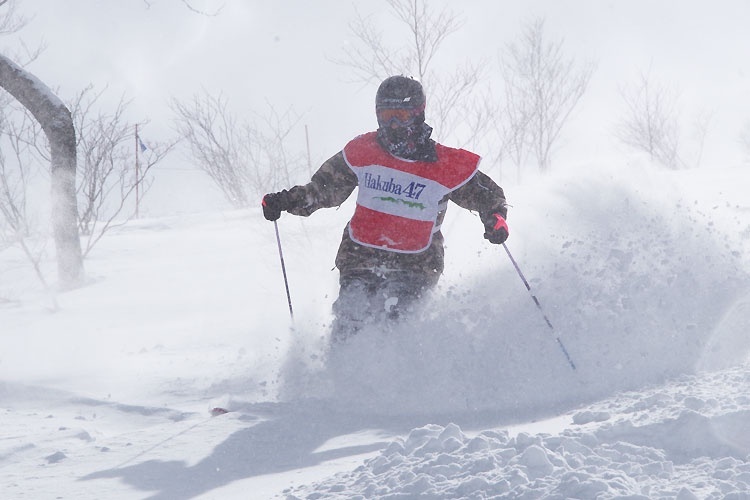 Hakuba 47 Tree Riding Zone is an un patrolled, steep, and technical section of trees. It is perfect for thrill seekers and tree shredders alike. Entry is permitted once you have followed the steps and become a member of the Tree Riding Zone. Off-track riding is strictly prohibited. If you get caught by our patrol at off-track areas, your ticket will be confiscated and you will be banned from our resort.

Click here for details.
---
Where to find AED
---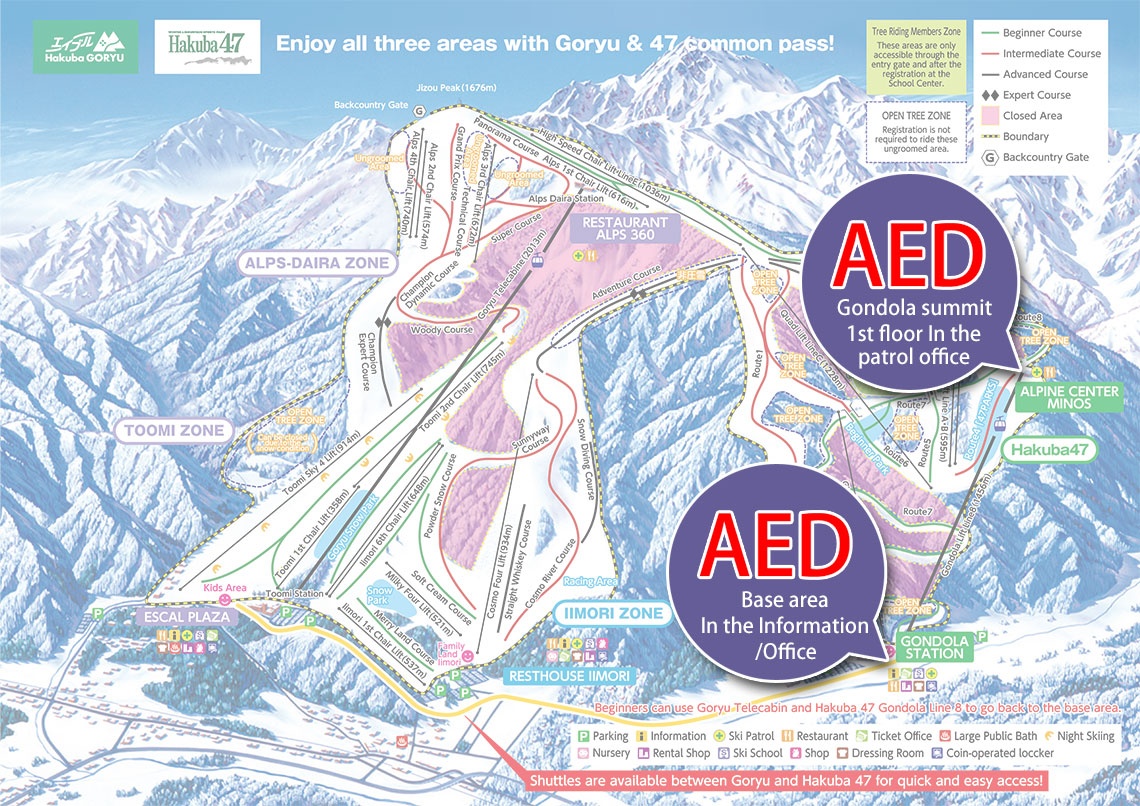 ---
AEDs (Automated External Defibrillators) are installed at the gondola base station and gondola summit station.
---
Course Restrictions
---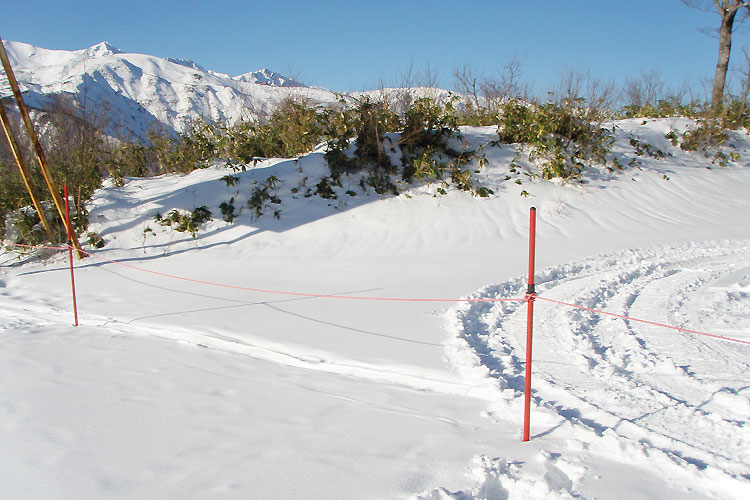 You may enter from the end of the rope.
Marked with ropes. It is prohibited to go under the ropes or jump over them.
---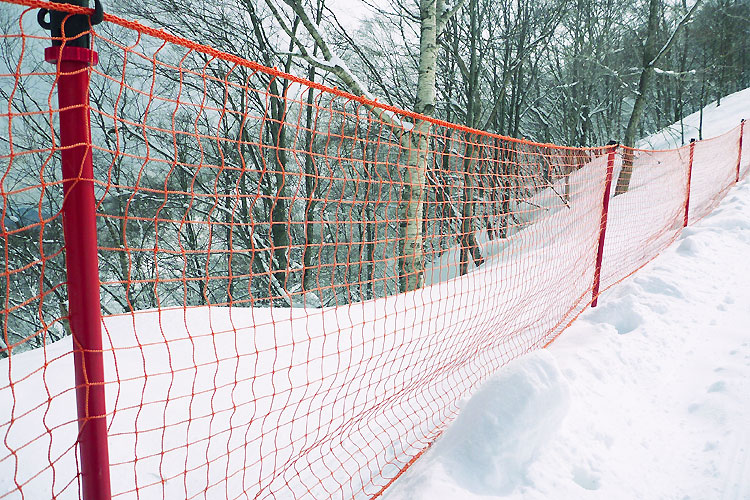 Do not enter
Marked with nets
---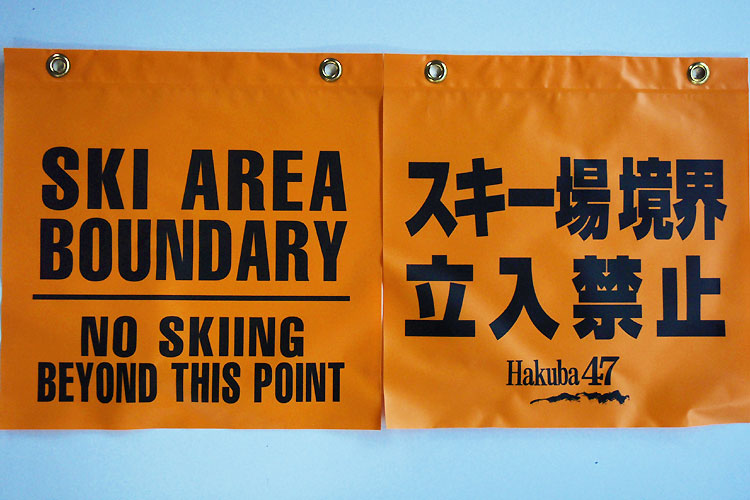 Do not enter
Marked with flags. It is prohibited to exit the ski resort from any other course but the designated gate.
---
If you are not sure whether or not the area is open for skiing, please check with our patrollers. Do not judge by yourself.
---
Boundary Sign Poles in Hakuba Valley Snow Resorts
Ski resorts including Hakuba 47 in Hakuba Valley have introduced integrated boundary sign poles for the safety of our guests.
---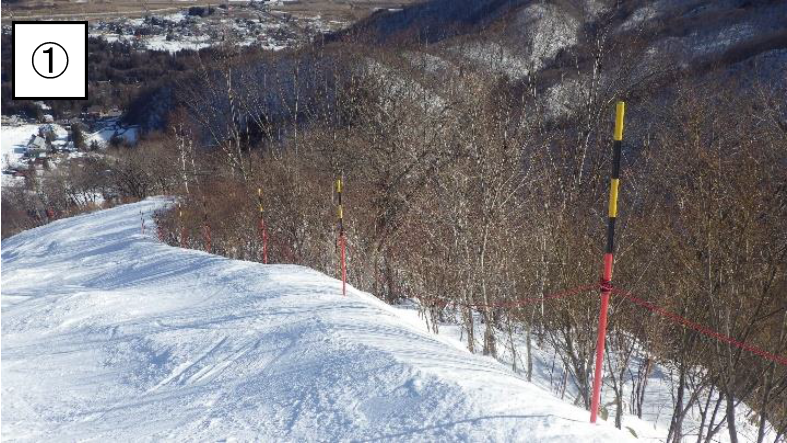 Yellow and Black colored boundary sign poles (ski area boundary)
Yellow and Black colored sign poles (shown in picture ①) indicate the ski area boundary. Beyond these markings is outside the controlled area, and there are numerous risk factors with severe consequences. Please be aware of the danger and always stay inside the boundary. For those who exit the resort for hiking or backcountry snow sports, you will be required to go through the designated gate and prohibited to exit from other areas. Ensure that you have all the appropriate safety equipment and knowledge, or you are in expert company to minimize the risks in the backcountry.

【Note】
In case of adverse weather conditions, we strongly recommend not exiting the resort into the alpine area (especially, Hakuba Goryu) due to increased risks. If there are areas of the resort that are closed, please refrain from entering such areas as the areas have been deemed unsafe for specific reasons. Should you need any further information, please ask the Ski Patrol.
---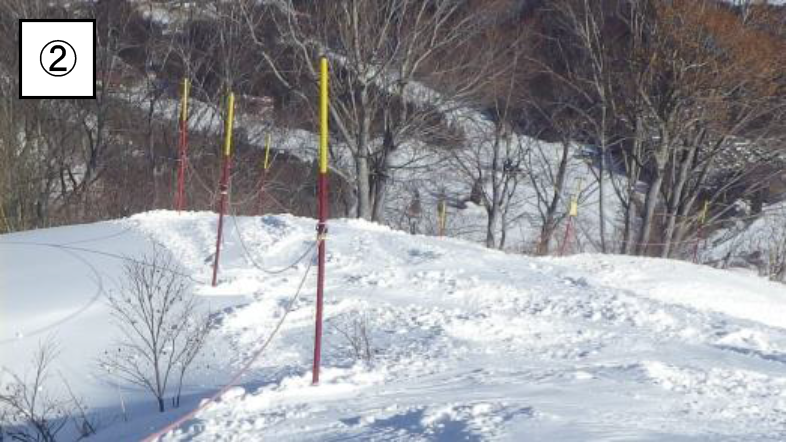 Yellow Red with Black stripes colored sign poles (closed areas inside the ski resort)
Yellow colored sign poles (shown in picture ②) indicate closed areas inside the ski resort. It is severely prohibited to ski/snowboard in these areas when closed by Patrol for any reason. We appreciate your understanding and cooperation in adhering to the guidelines put in place for the enjoyment and safety of all guests.
---