Tree Riding Zone Status
You can check out the latest status for the Tree Riding Zone below
Get your free Tree Riding Zone membership now:
Tree Riding Zone
The Tree Riding Zone is an un patrolled, steep & technical section of trees. It is perfect for thrill seekers & tree shredders alike!
Entry is permitted once you have followed the steps below and become a member of the TRZ.
Please bear in mind that Patrol may deem the conditions unsafe, as it is not groomed or managed, so un-planned closures may occur. We thank you for your understanding in this.
---
IMPORTANT:
We want all guests to enjoy the Tree Riding Zone and opportunity to explore this terrain in a fun and safe way. However - it is PARAMOUNT that you take a moment to review the rules and follow them closely. These rules are in place for a reason - primarily for your safety and the safety of others. The area can carry a very real risk of avalanche or injury, therefore if the Patrol has closed it, we must observe this closure. Furthermore, this area does have unexpected cliff drops that could cause serious injury if you accidentally go over one. This is why it is essential that you attend the safety briefing and enter at the designated areas. The high visibility bibs and registering yourself first allow us to know that you are in the area; without this, you may need serious assistance and nobody would know to look for you there as it is NOT PATROLLED.

Thank you for taking a moment to read - we hope you have a memorable and enjoyable experience!
---
Map & Entry Conditions
---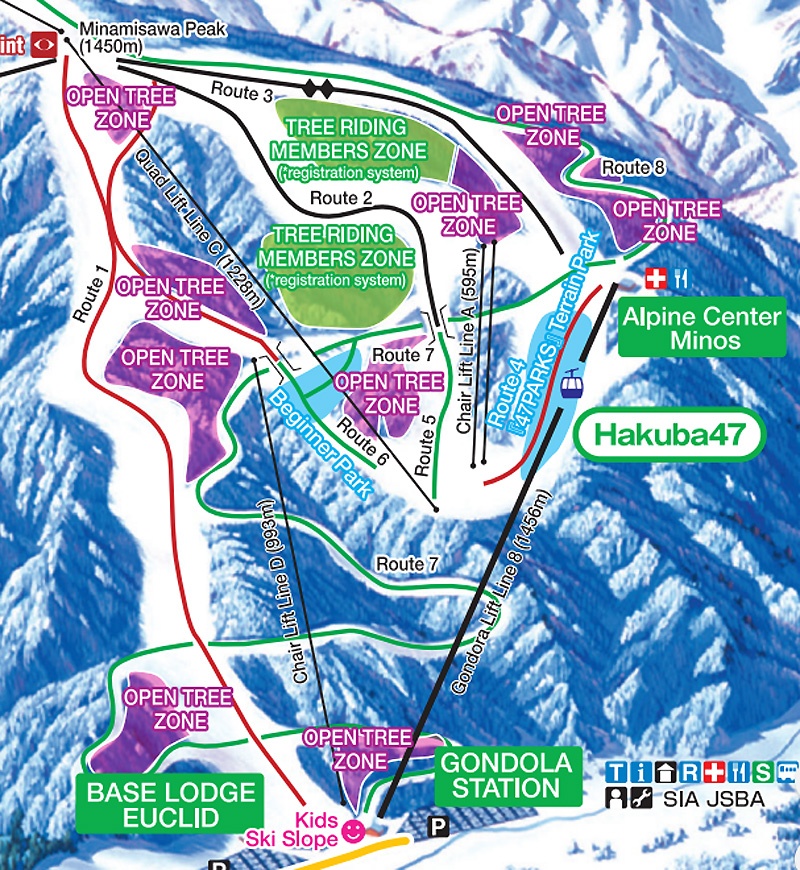 -- Entry Condition --

Those who can fulfill the following requirements may become members and ski/ride here.

● Agree to and sign the agreement
● Ski/ride wearing the designated bib<
● 1 person may ski/ride alone, but we recommend that you ski/ride in a group of 2 or more.

■ 13-18 Year Olds
 ● Those aged 13-18 (junior high and high school students and those in this age group) must have consent from a parent or guardian and the parent/guardian must sign the agreement
 ● Must be 150 cm or more in height
 ● Must ski/ride together with their parent/guardian (they should not ride separately within the area)

■ 18-20 Year Olds
 ● In the event of an accident, those aged 18-20 must be able to pay for rescue expenses by themselves or with the help of a parent or guardian.
---
Membership Registration (For First Timers)
---
For members
---
---
Entering The Tree Riding Zone
---
Before entering the Tree Riding Zone, please bring your ID to the reception. In exchange for your ID card, you will receive a red high visibility bib which must be worn at all times when using the Tree Riding Zone. After you have finished, please return the bib to the same place in exchange for your ID card.

-- IMPORTANT NOTES --
● You must wear the red high visibility bib AT ALL TIMES when using the Tree Riding Zone.
● Please make sure you return the bib to the reception by 15:00. Failure to do so will lead the patrol to initiate a search for you.
● Depending on snow and weather conditions, the Patrol may deem it unsafe to open the TRZ. If this is the case, we thank you for your understanding.

---
Back Country
---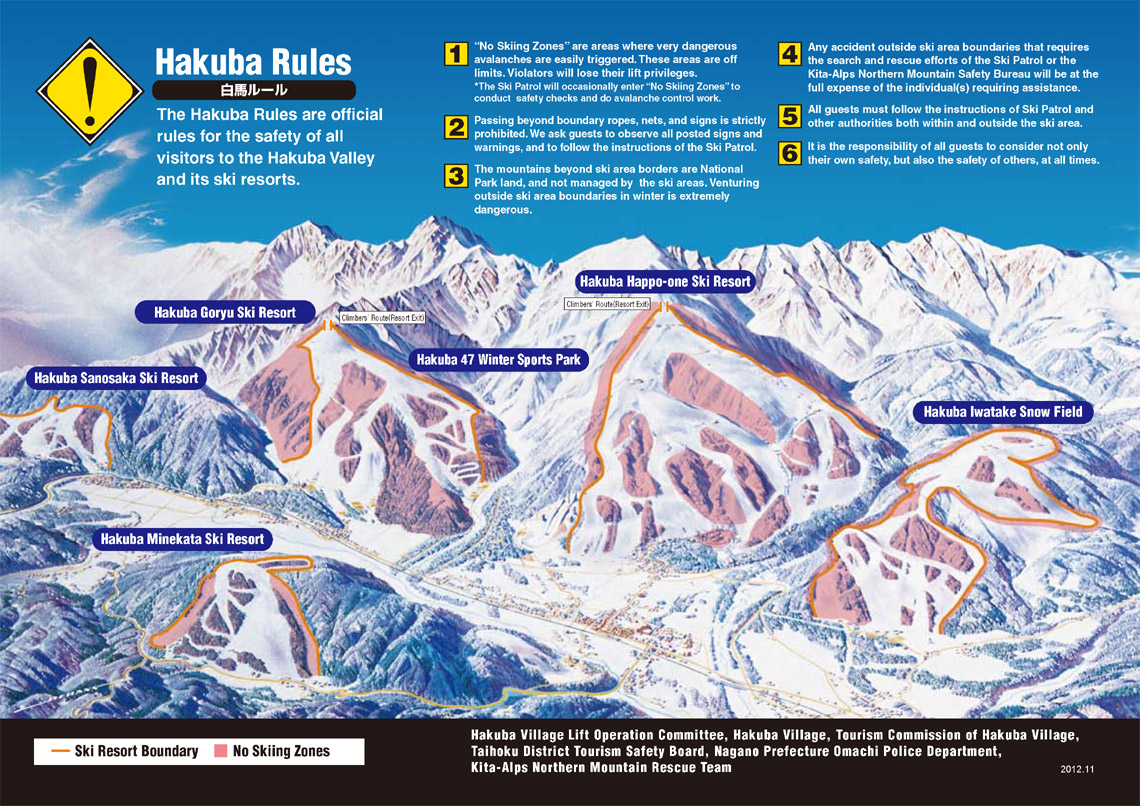 Back Country
As according to the Hakuba Rules, skiing/snowboarding outside of the set areas is strictly forbidden. If however, customers wish to leave beyond the perimeters of the ski resort, they are free to do so at their own risk once they submit a written declaration of intent. There are no guidelines on the style or form of the declaration but we advise to use the blank form available at the school center. Alternatively, you can download a PDF copy here. Once again, anyone leaving beyond the ski resort area is doing so at their own risk.
---