Camping
Outdoor family camp 2021
---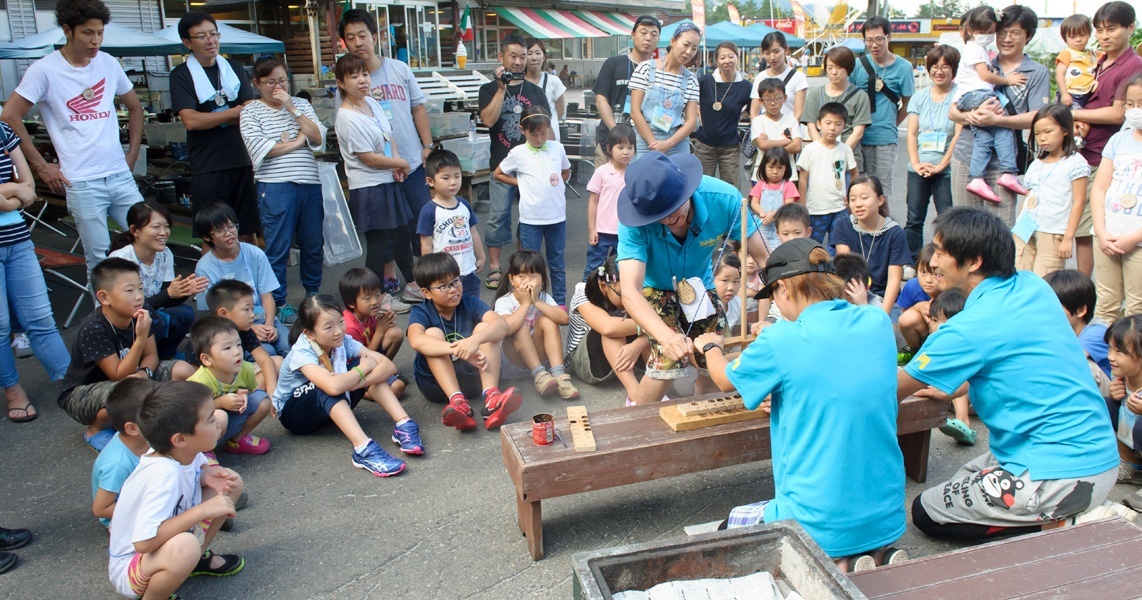 Outdoor family camp
This 2 night family camp is not only fun for all of the family, but will teach you new outdoor skills that can stay with you for life! Everything from pitching your tent to catching a fish and cooking it on a fire are all part of the experience, facilitated in no small way by our team of excellent guides who will teach you these skills and answer any questions. This is the perfect way to get your family into nature this summer and enjoy an authentic camping experience in Hakuba's Northern Japan Alps.
Click here for further details and to get your application form
Campsite
Enjoy camping alongside the river, with no reservations necessary for this open style campsite.
The whole campsite is reserved on Friday, July 30 (from 3pm) and Saturday, July 31 (until 12pm). We apologize for the inconvenience this may cause.
---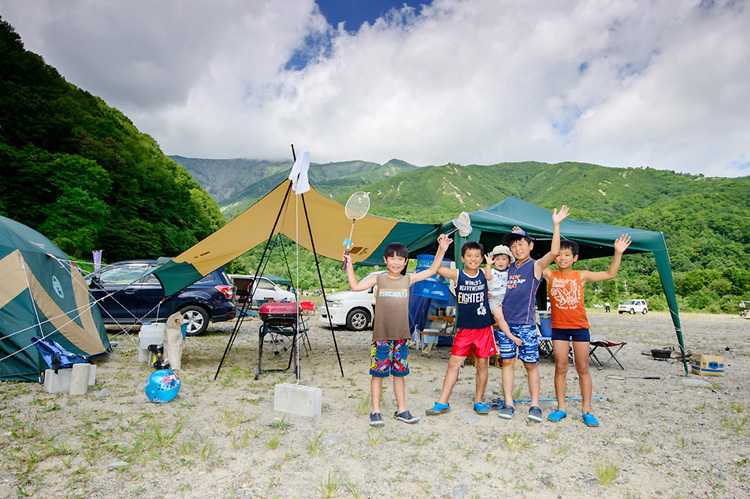 Overnight camping
This site covers a large area so there is plenty of space to create your own outdoor home!
● Campsite fee: ¥2,500 for up to 4 people
      : ¥550 per person for each additional after 4
      : Children under 2 are free
● Reception hours of operation 9:00~16:00
● Check in from 9:00am
● Check out before 12:00 noon
Overnight Camping Fees (/Night):
Campsite Fee
up to 4 people

each additional after 4
Vehicle
(Motorcycle)
Vehicle
(Car)
\2,500
\550
\500
\1,000
※Children under 2 are free.
---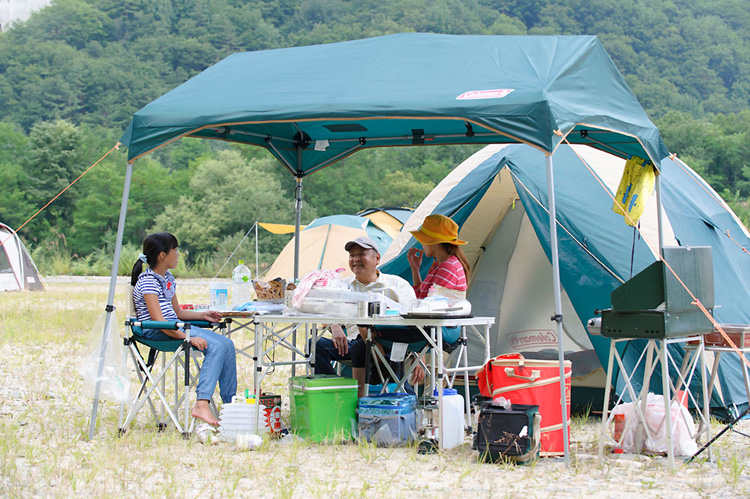 Day camping
Enjoy our drive in/drive out day camping area. Situated next to a river you can BBQ and enjoy nature in your own private space all day long!
● Campsite fees: ¥1,500 for up to 4 guests
      : An additional ¥300 per person after 4 people
      : Kids under 2 are free
● How to make a reservation: We do not accept advance bookings and ask that you reserve your place on the day at our General Reception.
 
Day Camping Fees (/Day):
Campsite Fee
up to 4 people

each additional after 4
Vehicle
(Motorcycle)
Vehicle
(Car)
\1,500
\300
\500
\1,000
※Children under 2 are free.
---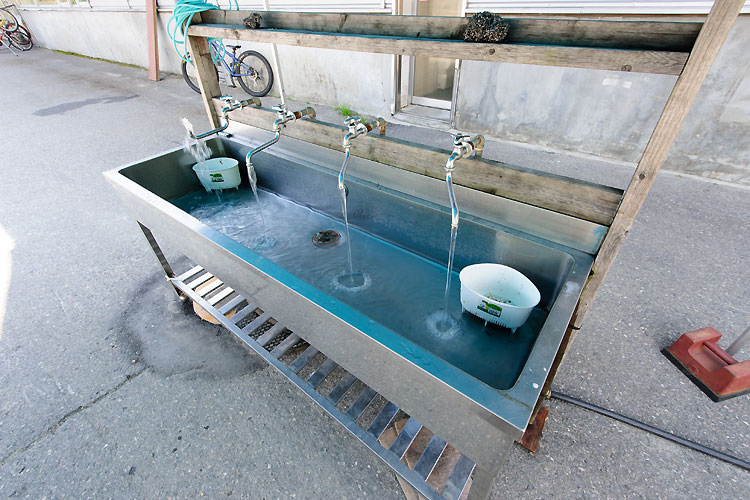 Campsite cooking facilities
A camp kitchen is installed close to the washrooms.
---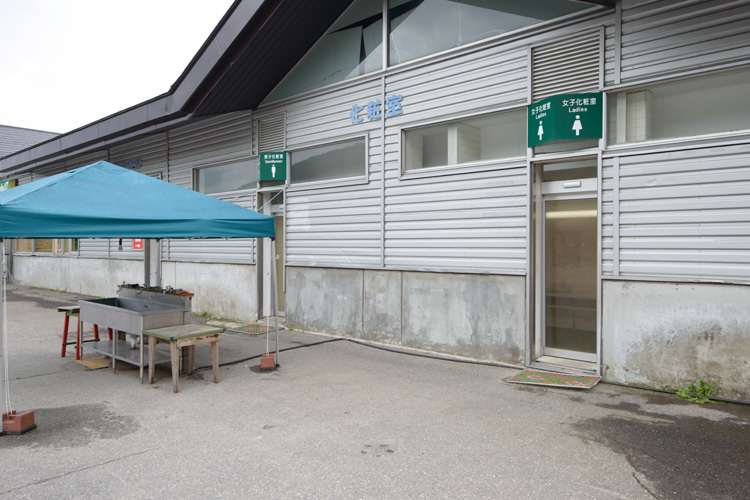 Campsite washroom
Toilet facilities are located next to the campsite and have clean hot and cold water.
---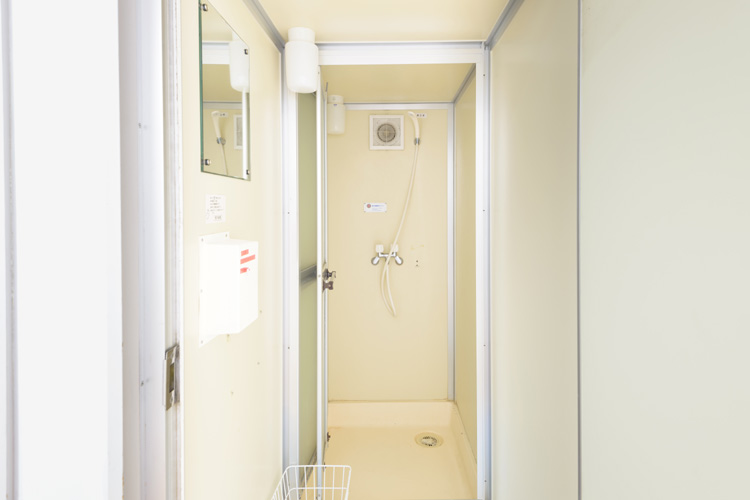 ---
General Reception
---
① Before entering our campsites please check in and pay at our General Reception located at our Gondola base station.
② You will then receive a card with our campsite layout which will let our staff know that you have checked in. Please place this in a visible place on the outside of your tent.
③ Kindly return the card upon check out to the General Reception.
Kindly note the following:
 ● Reservations cannot be made in advance but only on the day. We will operate on a first come first served basis.
 ● Sleeping anywhere on the premises of Hakuba 47 will be viewed and charged as camping - even if you are sleeping in your car.
 ● Guests entering from 8:00 am - before check in - will be charged the previous night's fee.
 ● There are no pre-set camping places, please use the area freely whilst keeping others in mind.
 ● Open fires are not allowed. Please use stoves or BBQ facilities.
Campsite FAQ
---