2020-2021 Mountain statistics
| | | | |
| --- | --- | --- | --- |
| Season | As soon as ready for snow, snow dependent – May 5th 2021 | Steepest Slope | 32 ° |
| Vertical Rise | 1,614m~820m(794m) | Total Length of Trail | 13,570m |
| Longest Run | 6,400m | Annual Snowfall | 12m+ |
| Course Data | 30%Beginners, 40%Intermediate, 30%Advanced | Average Snowdepth | 2m+ |
| Average Temperature | Dec:-2℃ Jan:-6℃ Feb:-3℃ Mar:-1℃ Apr:3℃ May:11℃ | Weather Fair | Fair 42%, Snowy 24% |
Trail Map
---
2020/2021 Lift Operations:
Operating Hours
Length
OPEN~4/4
4/5~5/5
Gondola Line-8
8:00-16:00
Down 16:15
    
8:00-16:00
Down 16:15
1,456m
Pair Lift Line-A.B
8:10-16:00
8:20-16:00
595m
Quad Lift Line-C
8:40-16:00
8:40-16:00
1,229m
Pair Lift Line-D
-
-
993m
Pair Lift Line-E
8:50-16:10
8:50-16:10
1,030m
*All lifts, including the gondola, will begin operation when the necessary checks have been completed. Therefore, actual operation times times may differ in adverse weather or unfavorable conditions from those above. Thank you for your understanding.

*Line-D will be operated during busy times and when the gondola Line-8 is suspended.
Course Information
---
Course Information
Length
Average gradient
Steepest section
R-1(Upper Half)
Intermediate
1,600m
22°
28°
R-1(Lower Half)
Intermediate
900m
22°
28°
R-2
Advanced
1,620m
18°
30°
R-3
Double Black
800m
20°
32°
R-4
Terrain Park "47PARKS"
600m
14°
16°
R-5
Beginner
800m
12°
14°
R-6 -
partially Terrain Park
Beginner
850m
10°
14°
R-7
Beginner
3,600m
7°
12°
R-8(Upper Half)
Beginner
1,300m
10°
12°
R-8(Lower Half)
Beginner
1,500m
10°
12°
Half Pipe
Wide 16m, Vertical 3m
135m
16°
16°
---
---
---
---
---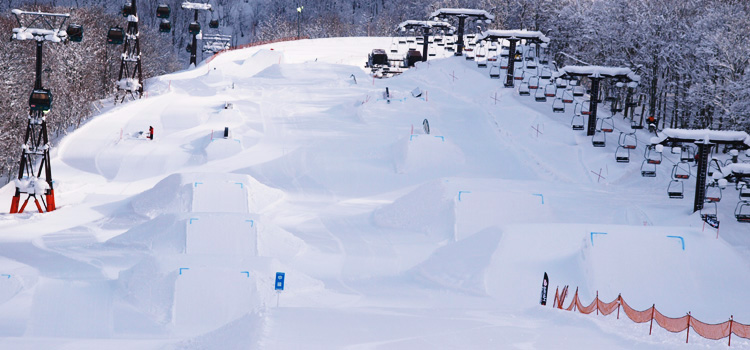 Route 4
"47PARKS" of Hakuba47 is a large scale snow park that offers a wide variety of features and a steady progression . Boasting a large, well maintained half pipe, a series of 10 kickers ranging from small to 20 meters and jib rails, boxes & berms. The careful progression ensures that both expert and amateurs alike can find something that suits their level.
Gradient Max. 16°/Ave. 14°
Skill ●●● Intermediate
Advanced  Intermediate  Beginner 
---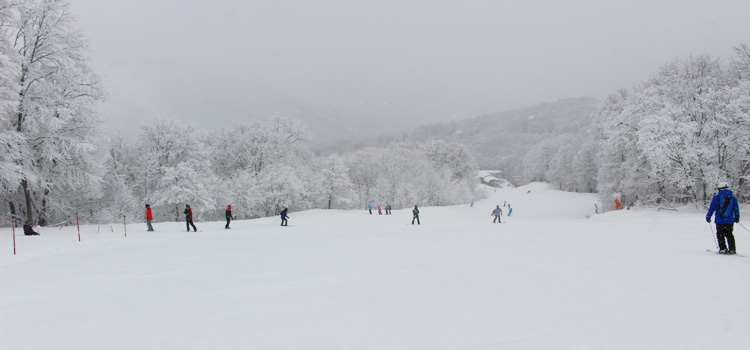 Route 5
Great beginner terrain mid-mountain, with an excellent natural progression. This means that even first timers are able to enjoy a full mountain experience with incredible views to boot.
Near the route 5 are the gondola station, restaurant, and restroom.
Gradient Max. 14°/Ave. 12°
Skill ●● Beginner

---
---
---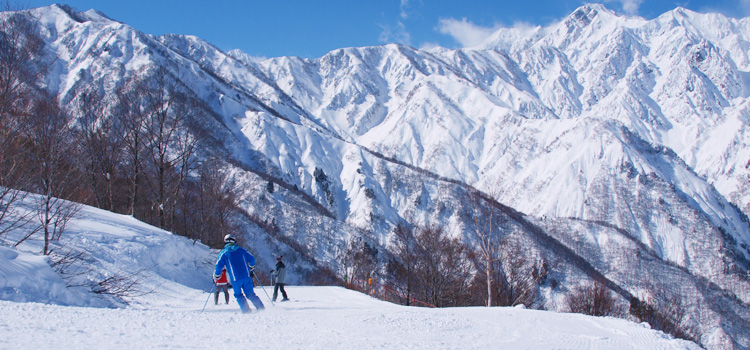 Route 8
This is a course for beginners that connects the gondola summit and the top of the mountain.
There is a 2,800 m long gentle slope between Goryu Gondola "Telecabin" summit and Hakuba 47 Line E chairlift.
Please note that there is a narrow, steep slope at the bottom of this course.
Gradient Max. 12°/Ave. 10°
Skill ●● Beginner

---
Hakuba 47 was established in 1990. The name refers to the incredible 4 seasons of Hakuba, which guests can enjoy 7 days a week. Many guests visit Hakuba 47 during the winter months to enjoy skiing, snowboarding, snowshoeing, snowmobiling and even snow picnics! These activities continue all the way into Spring, right up until the beginning of May. At this time you can then view spectacular cherry blossoms, and enjoy the very best of Winter and Spring simultaneously; soaking up the sunshine on the slopes, with green and blossoms in the valley.

Summer time undergoes another complete transformation as the valley become lush, green and beautiful. There is a plethora of activities for summer guests to enjoy, such as downhill mountain biking, outdoor BBQs, a large kids area with a mini steam train, fishing, swimming and hiking. Autumn then brings the temperatures back down before revealing truly vibrant and breathtaking colors, arguably the most beautiful time of the year in Hakuba. As well as hiking, this time of year also offers many cultural activities, such as soba making / oyaki bun and craft workshops.

We are located in the Hakuba Valley, nestled in the Northern Japanese Alps. This snow sports Mecca is comprised of 10 ski resorts, totaling over 200 runs. The view from Hakuba 47 is truly spectacular, with rugged mountains providing and dramatic backdrop. Most notably is Goryudake (5 dragons), which bears a striking resemblance to a real life "Black Diamond" logo. The three peaks of Hakuba, Yarigatake, Syakushidake and Shiroumadake are also impressive from this perspective, with Shiroumadake, the valley's highest peak, on the right hand side. Shiroumadake, meaning white horse, is also the town's namesake - so it can also be known as Mt. Hakuba.

Hakuba 47's lift ticket includes two other resort areas; Hakuba Goryu and Iimori. Connected at the top and under the same pass, you can ski all three areas and 23 runs by interconnecting lifts and without the need for transportation.

Our resort proudly offers Hakuba Valley's longest winter season (December through to May), as most runs are north facing. As well as top to bottom skiing all season long, there truly is something for everyone with a great begin area at the mid station, wide, consistent intermediate slopes, and even several mogul fields for the advanced. For the very adventurous we have a Tree Riding Zone which is full of great powder, interesting features and steep, fun sections. Lastly, we are extremely proud to offer the best terrain park in the Hakuba Valley with its well-maintained half-pipe and variety of boxes, rails, bonks, jumps, waves and berms serviced by two double chairs.

At Hakuba 47 you can sit back on the chairlift to view the breathtaking scenery and keep an eye out for the adorable snow monkeys and kamoshika (Japanese serow) who call Hakuba 47 home.

We look forward to seeing you at Hakuba 47.


Sincerely,
Hakuba47 Winter Sports Park
---